immediately / Fulltime / Wuppertal
Projektleiter Sales (m/w/d)
immediately / Fulltime / Wuppertal
Projektleiter Sales (m/w/d)
Wer wir sind
Wir sind ein familiäres Team aus zuverlässigen und kompetenten Experten, das eine professionelle Unterstützung rund um die Geschäftsreise zu nationalen & internationalen Messen anbietet.
Wir arbeiten mit Leidenschaft und Biss an unseren Projekten und setzen unser Know-how gekonnt für unsere Kunden ein.
Unternehmen und Reisende aus aller Welt vertrauen im nunmehr 19. Jahr auf die Arbeit von HM business travel.
Für unseren Standort im Herzen von Wuppertal suchen wir nach Vereinbarung einen engagierten und motivierten Projektassistent Sales (m/w/d) zur Verstärkung unseres sympathischen Teams.
Ihre Aufgaben
Akquisition von Firmenneukunden sowie Betreuung unserer Stammkunden für nationale und internationale Messeprojekte
Umfassende Beratung und Vorstellung unseres Portfolios sowie unserer Serviceleistungen
Eigenverantwortliches kalkulieren von Angeboten sowie erstellen von Verträgen
Erreichen realistischer, der Position angepasster, Umsatzziele in enger Zusammenarbeit mit unserer erfahrenen Verkaufsleitung
Unterstützung sowie aktive Förderung unserer Projektassistenten
Persönlicher Ansprechpartner für unsere Kunden auf nationalen und internationalen Messen
Besichtigung und Kennenlernen unserer Vertragshotels
Pflege der Verkaufsdatenbank / CRM
Ihr Profil
Sie verfügen über eine abgeschlossene Berufsausbildung in der Hotellerie oder Touristik- / Eventbranche und / oder ein Studium der Tourismuswirtschaft sowie mindestens 3-4 Jahre Berufserfahrung in einer vergleichbaren Verkaufs- / oder Vertriebsposition.
Sie sind eine engagierte sowie kommunikative Persönlichkeit, welche über eine überzeugende und zielorientierte Art zu verhandeln verfügt
Es macht Ihnen Spaß zu telefonieren sowie auf Menschen zuzugehen
Teamarbeit und Teamgeist sind für Sie keine Fremdwörter
Ein gepflegtes Äußeres sowie sehr gute Umgangsformen sind für Sie selbstverständlich
Sie beherrschen die gängigen Microsoft Office Programme wie Word, Excel und Outlook
Die deutsche sowie englische Sprache beherrschen Sie sicher in Wort und Schrift
Eine weitere Fremdsprache wie z.B. italienisch, spanisch oder niederländisch wäre von Vorteil, ist aber kein Muss
Sie besitzen einen PKW- Führerschein der Klasse B
Unser Angebot
Wir bieten Ihnen eine abwechslungsreiche Tätigkeit in einem innovativen Unternehmen, welches sich seit Gründung im Jahr 2004 fest am internationalen Markt etabliert hat
Unser attraktives Office befindet sich in einem modernen Büro- und Ärztehaus im Herzen von Wuppertal (600m vom HBF entfernt, Bushaltestelle am Haus)
Sie arbeiten von montags bis freitags in einem unserer hellen, vollklimatisierten, ruhigen 2-3 Personen Büros
Unser erfahrenes Team unterstützt Sie selbstverständlich gerne bei Ihrer verantwortungsvollen Aufgabe sowie bei Ihrer Einarbeitung
Nach erfolgreicher Absolvierung der Probezeit erwartet Sie eine leistungsorientierte Entlohnung / Prämienregelung
Neben einem sehr guten Betriebsklima erwarten Sie flache Hierarchien sowie eine aktiv gelebte open-door-policy
Wertschätzungen wie regelmäßige Teamevents, gemeinsame Essen, kostenfreie Getränke, Zuschuss zur betrieblichen Altersvorsorge sowie diverse
Vergünstigungen (z.B. bei Bahnfahrten und Urlaubsreisen, Eintritt in Freizeitparks, etc.) runden unser Angebot ab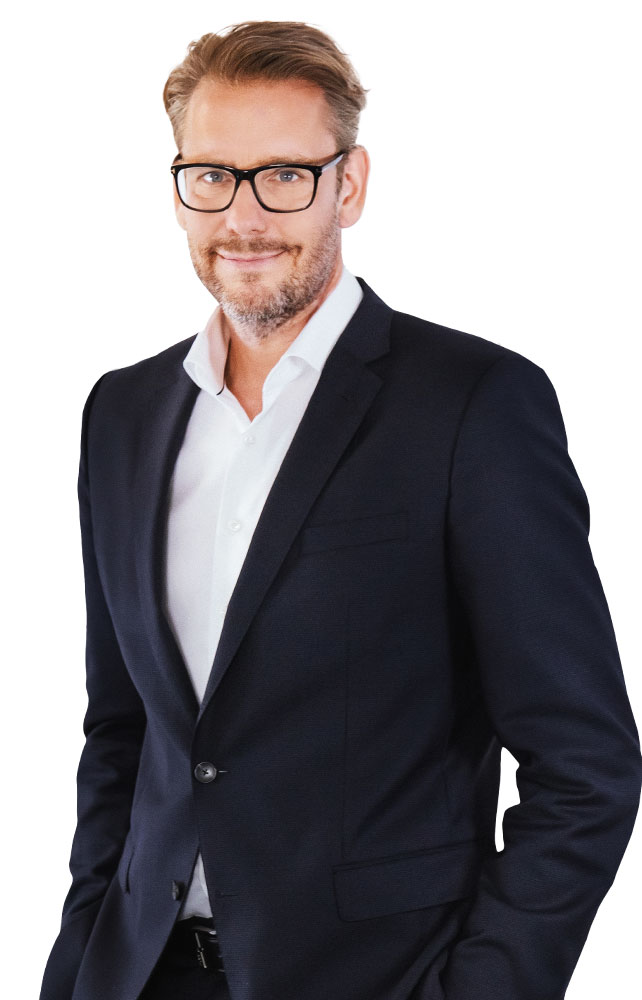 Marc Hasenack
How to apply for a job with us
by post:
HM business travel GmbH
Mr Marc Hasenack
Friedrichstr. 51
D-42105 Wuppertal
by email:
Versatility
We offer you a multifaceted job in an innovative company that has firmly established itself on the international market since its launch in 2004
Modern office
Our attractive office is located in a modern building and medical centre in the heart of Wuppertal (600m from the main train station, bus stop at the building).
Regular working hours
You work from Monday to Friday in one of our bright, fully air-conditioned, quiet 2-3 person offices
Teamwork
Our experienced team is naturally happy to support you in your responsible function as well as during your induction
Performance-related pay
After successful completion of the probationary period, you can expect a performance-related salary / bonus scheme
Working as equals
Apart from a very good working environment, you can expect flat hierarchies and an actively practiced open-door policy
Teamevents
Additional benefits such as regular team events, shared meals, free drinks, a contribution to the company pension scheme, and various discounts (e.g. on rail travel and holiday trips, admission to theme parks, etc.) complement our offering
Opportunities
for promotion
There is potential for direct visibility of one's own successes as well as future opportunities for advancement.
You will find HM business travel has a presence on platforms like Facebook, LinkedIn, and Xing. Visit our pages and stay up to date!
We are here for you, whether you are considering a business trip for the first time or already have a travel itinerary. Contact us today! We have prepared a contact form so we can process your queries and suggestions promptly.