Bauma 2022 — the heartbeat of the construction and mining machinery
Even though it's still a long way off, there's already great anticipation! Bauma — the world's leading trade fair for construction machinery, building materials' machinery, mining machinery, construction vehicles and construction equipment — will enter its 33rd round in autumn 2022 and will take place from 24 to 30 October at the exhibition centre in Munich Riem.
For seven days dozens of cranes rising up into Munich's sky and mining excavators as tall as houses, weighing more than 200 tonnes, and hopefully will astonish more than 600,000 trade fair visitors from all over the world again.
Experience the world's largest trade fair in Munich
Founded in 1954, this construction machinery trade fair is the only place to be for the construction, building material and mining machine sectors. Held every three years in Munich, the industry's top fair bauma attracts an increasing number of exhibitors and visitors each time. Attending in huge numbers, they make new business contacts and enter into deals directly. Corporate exhibitors display their goods and services in an international environment to industry players and all the major opinion leaders. New lines of business are opened up during the fair's run. Visitors who've attended return again and again.
The future of the construction and mining industry on 614,000 square metres
3,700 international exhibitors will be displaying innovative products and services at bauma 2022 on around 614,000 square metres, i.e. in 18 exhibition halls and the entire outdoor area. This is the only trade fair event where Messe München rents open-air space from the surrounding area. This makes bauma the largest trade fair in the world.
Machines and their deployment options are performed in live shows. To ensure all the exhibits are in place on time, construction work begins six months in advance.
The four thematic areas of the trade fair are:
All around construction sites
Mining, extraction and processing of raw materials
Production of building materials
Components and service suppliers
Look forward to a varied supporting programme at the trade fair
If you want to delve deeper into the subject of the construction and building materials' industry, Hall C 2 is the place to be for the free bauma Forum. Here you can listen attentively to the presentations, press conferences and/or panel discussions, which present the latest product developments, trends and market analyses. The 12th International Information Centre "Research live" shows the current state of research and science. Here, universities and research institutes from Germany and abroad will show their results from construction and building materials' machinery research and mining technology. There is also the career event for schoolchildren,  THINK BIG!
bauma – a trade fair spectacle without equal
As the world's leading trade fair for construction machinery, bauma has a dynamic effect on the city. Pubs, shops and taxi drivers all enjoy good business. Companies have already begun booking hotel rooms for this upcoming event. Munich Transport Association is facing a major operation due to the high volume of people. The U2 trade fair line runs every 5 minutes during the day and every 3.3 minutes during the morning and evening rush hours. In addition, shuttle buses relieve the subways: One of them runs every quarter of an hour from the airport to the event site. There are also special Park+Ride facilities for visitors to the fair.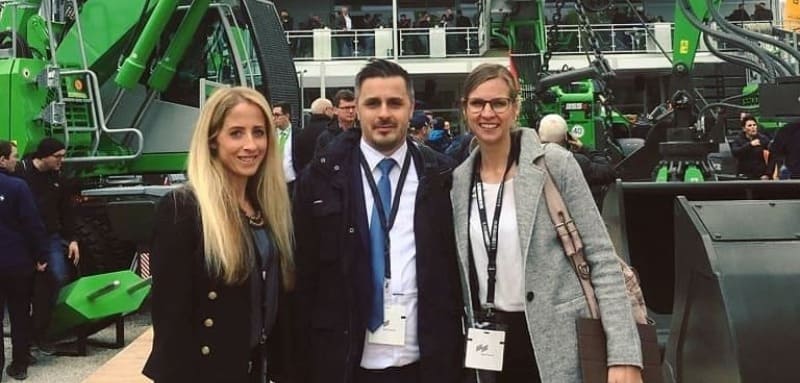 Book a hotel room – attend the next bauma in October 2022
Companies have long since started booking hotel rooms for the world's most important industry meeting place. HM business travel arranges the hotel rooms for you and takes care of the organisation of your stay at the trade fair – from hotel booking to travel expense accounting. Here you can see our partner hotels for bauma 2022 in October and make an individual choice of the hotel according to your needs. Or send us a non-binding reservation request with your wishes, and we will do our best to find you suitable accommodation in and around Munich.
Date and opening hours 
Date of event
24-30 October 2022
Where is bauma in Munich?
Messe München trade-fair center, 81823 Munich
Opening hours for visitors
Monday – Friday 09:30–18:30
Saturday 08:30–18:30
Sunday 09:30–16:30
More information and tickets
On the official website you'll find
further information about bauma 2022